PJammin'® Event for Kids with Cancer
Today, we would like to express our sincerest thanks to Jel Sert President Ken Wegner and all the employees of Jel Sert, over 200 of whom are currently participating in the first-ever corporate PJammin'® event to raise money and awareness for childhood cancer! During this corporate-wide fundraiser, employees who have chosen to participate can wear their favorite t-shirt and pajama bottoms to work. The top fundraiser in each department will get to drop their supervisor into a dunk tank, while the top overall fundraiser gets to dunk Jel Sert President Ken Wegner. What an amazing way to show support for children with cancer and their families: spending the day in your favorite PJs and working for the chance to dunk your boss! Thank you, Ken Wegner and all your employees, for your help and support; we hope you have fun today!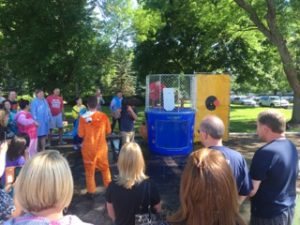 The funds raised from this event will support the ACCO's ongoing mission to develop and distribute resources and educational tools designed to empower children and their families during their battle against childhood cancer. From the very first moment a family hears the devastating news that their child has cancer, they are thrown into an entirely new world where they must make numerous critical medical decisions on which the health and wellbeing of their child depends, all while attempting to explain this new world to a scared, hurting child. Our learning resources, available free of charge to families coping with childhood cancer, are designed to empower families by giving them the information and tools they need to navigate this challenging and overwhelming new world. The funds raised today also support the ACCO's advocacy missions here and abroad to fight for improved funding of and access to new and better treatments designed specifically for childhood cancer.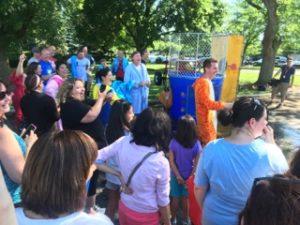 ACCO and Jel Sert: An Ongoing Partnership
We would also like to thank Ken Wegner and Jel Sert for its ongoing and heartfelt support for children with cancer, as well as for the ACCO and its mission. Jel Sert has been a dedicated supporter of the childhood cancer community for many years now. Through its Take a Pop, Share a Smile program, Jel Sert donates freezers and frozen Fla-Vor-Ice treats to pediatric oncology hospitals around the country. For children undergoing treatment for cancer, these pops are more than simply a fun treat; they can play a critical role in easing the pain of mouth sores, keeping children hydrated, and alleviating many other negative side effects of cancer treatment. Since 2008, Jel Sert has donated freezers to 115 hospitals, and more than one million pops! Jel Sert also displays the gold ribbon, the internationally-recognized awareness symbol for childhood cancer, on Fla-Vor-Ice freezer pops, Otter Pops, Pop-Ice, and other Jel Sert products.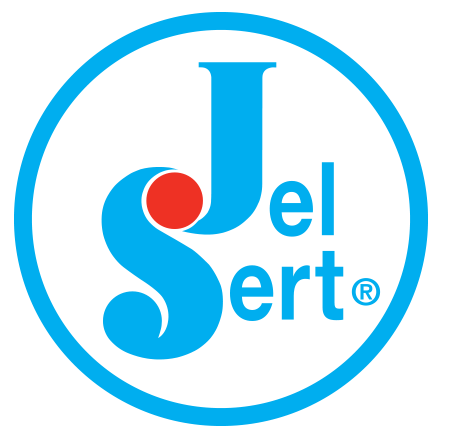 Now, Jel Sert has once again shown its dedication to the childhood cancer community by becoming the first corporation to hold a large-scale PJammin' ®fundraiser! PJammin'® events are a fun, memorable way to raise awareness about childhood cancer and what it means in the day-to-day life of a child. Originally created as a way for families to build awareness of childhood cancer in their child's school, organizers of PJammin'® events invite participants to wear their pajamas during the day, just as a child undergoing treatment for cancer often spends days, even weeks, in a hospital wearing pjs or hospital gowns. Today, Jel Sert has shown us that PJammin'®, Go Gold®, and other fundraising and awareness events need not be limited to schools, but can be a great way for organizations and corporations to build team spirit, improve community outreach, and even have some fun, all while helping children with cancer and their families!
If you are interested in hosting a PJammin'®, Go Gold®, or other creative fundraising event in your business, school, or community, we encourage you to contact us today for more information!
About the American Childhood Cancer Organization
The American Childhood Cancer Organization (ACCO) is a non-profit charity dedicated to helping kids with cancer and their families navigate the difficult journey from cancer diagnosis through survivorship. Internationally, the ACCO is the sole US member of Childhood Cancer International (CCI), the largest patient-support organization for childhood cancer in the world. Here in the United States, the ACCO promotes the critical importance of ensuring continued funding into new and better treatment protocols for childhood cancer.  And most importantly, the ACCO is focused on the children: developing and providing educational tools for children fighting cancer and their families, empowering them in their understanding of childhood cancer and the medical decisions they must make during this difficult journey. All of ACCO's resources are available free of charge for families coping with childhood cancer.  
For additional information on our resources or information on how to obtain our resources free of charge, please visit our website at www.acco.org.
For more information about the American Childhood Cancer Organization and how we can help, call 855.858.2226 or visit:
Want To Read American Childhood Cancer Organization On Your Phone? Click the NoteStream logo: