Meet Preston, a Desmoplastic Small Round Cell Tumor (DSRCT) hero.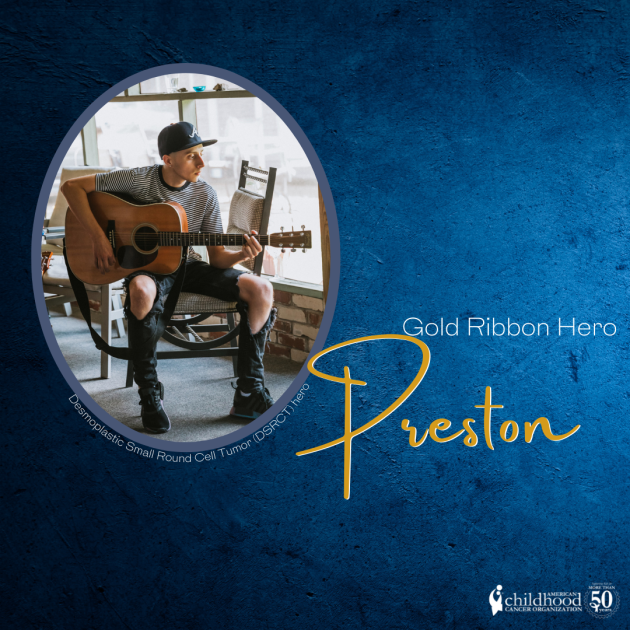 On Christmas Eve in 2015, Preston was rushed to the emergency room after his mother noticed his stomach was distended and he stopped eating. After an x-ray, MRI and ultrasound, the doctor took Michelle into the hallway and told her she had a very sick boy. The doctor showed Michelle a large mass in his abdomen. "It was terrifying." The family was given the choice to take Preston to the nearest children's hospital or travel by ambulance. Michelle drove Preston in an effort to not scare him. They arrived at the hospital and after 45 minutes, the oncology doctors confirmed that Preston had cancer. He had a biopsy the next day which revealed a rare and terminal cancer called DSRCT.
During Preston's cancer journey, he endured 54 rounds of chemotherapies and 45 sessions of radiation in his abdominal area. He underwent a clinical trial and tried to get into another trial in September, however was unable to join because cancer had spread. In total, Preston had nine surgeries and cancer returned six times.
"Everything changed overnight and he missed so much in life and school." In March 2022, Preston was admitted to the hospital and doctors told the family that there were no more treatments available to him anymore. Preston's wish was to come home from the long battle and live the rest of his remaining life in the comfort of his own home surrounded by friends and family.
Preston's community surrounded him on March 12, 2022 in a surprise graduation ceremony. "He wanted to be a nurse and help kids because he can relate to what they are going through. Now that he's facing death, he is facing that with such grace." Preston gained his wings in April 2022, surrounded by family and friends.
Learn more about sarcomas by clicking here.
Together, we can make a difference. Donate today, "because kids can't fight cancer alone!®"
DONATE ONLINE»