Order your 2016 ICCD Awareness Shirt before January 22 to show your support!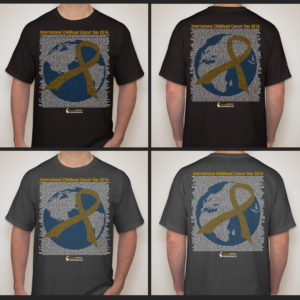 On February 15, the ACCO and childhood cancer organizations around the world will come together to highlight the critical importance of bringing hope to the millions of children whose lives have been changed forever by childhood cancer. We hope that you will join together with ACCO on this important day to show your support for these children and their families, in the United States and around the world, and to add your voice to the growing chorus demanding that childhood cancer become a national and international child health priority! We invite you to purchase one (or more!) of the 2016 ICCD awareness t-shirts and wear it proudly on February 15 to show that you, too, honor these brave children and their families.
CLICK HERE TO REVIEW THE LIST AND PURCHASE A SHIRT Once again, we are overwhelmed with the incredible support our ICCD awareness shirt campaign has garnered. This year's shirts feature the names of more than 4,000 brave childhood cancer warriors! We received so many names that we could not include them in one t-shirt, so we designed three different shirts to ensure that we included them all. The names are listed in alphabetical order by last name. Those children honored only with their first name are listed in alphabetical order by first name on the third shirt.
While we will continue to edit and update the list on a daily basis until January 15, the names fall into the following breakdown:
SHIRT 1: Last names Aagard – Gray 
SHIRT 2: Last names Gray – Ontiveros 
SHIRT 3: Last names Ordaz – Zumberge 
The deadline for ordering shirts is quickly approaching; shirts will be available for purchase until midnight EST on January 22, 2016. Our goal is to ensure that shirts are delivered within two weeks so that they can be worn on ICCD to help commemorate this special and important international awareness event!
What is International Childhood Cancer Day?
International Childhood Cancer Day (ICCD) is an opportunity for the world to come together to raise awareness about childhood cancer and the terrible toll it continues to take on children and families around the world. It is an opportunity to show support for childhood cancer warriors and survivors around the world and their families, as well as to honor the memories of those children whose young lives have been cut short all too soon by childhood cancer. The goal of ICCD is to spotlight the continued challenges faced by children in high- and middle-income countries where treatment for childhood cancer remains dependent on toxic drugs invented decades ago to fight adult cancers, all-too-often leaving survivors facing long-term health concerns. This day also highlights the growing childhood cancer crisis in low-income countries, where most children do not even have access to effective medical care, basic cancer treatments, or sometimes even a diagnosis.
Why is the ACCO Involved in International Childhood Cancer Day?
The American Childhood Cancer Organization is the sole U.S. voice in Childhood Cancer International (CCI, formerly the International Confederation of Childhood Cancer Parent Organizations), an international network of 180 grassroots childhood cancer organizations across 90 countries and 5 continents and the voice behind International Childhood Cancer Day. Like ACCO, CCI is premised on the belief that even one death from childhood cancer is too many, and that lawmakers, scientists, industry and advocates around the world must come together to create new and better treatments for childhood cancer and ensure that all children have equal access to those treatments. Therefore, ACCO is proud to join with and promote this international movement to raise awareness about childhood cancer, to add the strength of American voices to the international call for a world where no child dies from childhood cancer ever again.
We encourage you to join with us on February 15th to wear your 2016 ICCD Awareness Shirt and honor the many, many children here and around the world facing this devastating disease. As always, we thank you for your support!
The American Childhood Cancer Organization (ACCO) is a non-profit charity dedicated to helping kids with cancer and their families navigate the difficult journey from cancer diagnosis through survivorship and bereavement. At the national level, the ACCO promotes the critical importance of ensuring continued funding into new and better treatment protocols for childhood cancer. At the grassroots level, the ACCO is focused on the children: developing and providing educational tools for families and learning resources for children in order to empower them with knowledge about their cancer treatment decisions. All of our resources are available free of charge for families in the U.S. coping with childhood cancer.
For additional information on our resources or information on how to obtain our resources free of charge, please visit our website at www.acco.org.
For more information about the American Childhood Cancer Organization and how we can help, call 855.858.2226 or visit:
Want To Read American Childhood Cancer Organization On Your Phone? Click the NoteStream logo: