A Celebration of Life: A Survivor's Story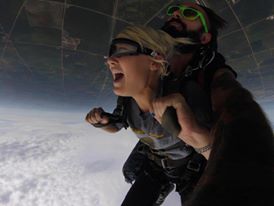 This week, two-time childhood cancer survivor Kara took her GO GOLD® shirt to the skies! Having bravely fought childhood cancer twice, Kara is now living life to its fullest, using the same courage, spirit, and determination which helped her win her battles against cancer to face another fear: jumping out of an airplane. Kara's long battles with cancer have shown her that there is nothing she cannot achieve and that life is a beautiful gift that too many of us take for granted. Thank you, Kara, for showing us just how high a childhood cancer survivor can fly!
Like Kara, we hope you will wear your GO GOLD® shirt proudly this month (and beyond) to show the world the incredible fighting spirit of all teens and children battling this disease.
Our GO GOLD® shirts are still available for purchase; if you would like to order one, please click here.
Kara's Story, in her own words: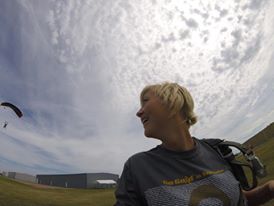 When I was 14 years old, a little shy freshman in high school, while I was enjoying my teen years my mom started to notice things that I shrugged off. She noticed a lot of bruises appearing on my soft, nearly flawless skin. This didn't concern me much until I realized I could not keep up with friends as we played tag outside, waking up was more of job than school itself, and my lips were a pale unusual color.

At this point, my mom wanted me to be seen by a doctor. At that time I was living in Woodbridge, Virginia. She took me to a local clinic to have some tests. A doctor quickly looked me over. He decided the best bet was doing some blood test and going from there. At this point, I had no idea that those result would change my life forever.

Not even 2 hours later, the clinic called back and informed my mom that something came back not right and I would need to be seen the following day by a specialist. Early the next day, my mom and I loaded up for an hour drive to Walter Reed Medical Center. We were told to go to Oncology department on the 3rd floor. The word Oncology was foreign to me, although soon it became a word I would have to use too often. My oncologist, my mom, and I sat in a tiny room as those deathly words rolled softly out of his mouth, "Kara…you have Acute Lymphoblastic Leukemia." he said. My body felt numb, my mind filled quickly with a million questions as I burst into tears alongside my mom. He told us he'd give us a minute and left the room. I sat there squeezing my mom as we cried together.

Soon, this oncology unit became more of a home than a hospital. The day after my diagnoses I was scheduled for surgery to have a port placed. Chemo for me was brutal. Every day was a battle. With all the chemo drugs, steroids, shots, bone marrow biopsies, and tests, I was started to feel like a science experiment and it was 3 year process.

My high school, Freedom High School in Woodbridge, did an amazing fundraiser for me. They raised nearly $10,000 for me at a basketball event. The city also did a story about me in the newspaper. They followed me for 2 weeks in order to be able to see what I was going through and get pictures of me getting treatment.

A year into my treatment, my mom found out she was pregnant. Unfortunately I was hospitalized when she had her gender reveal appointment. It was a bummer. But she brought me a balloon to the hospital and announced it was a boy! When he was 2 weeks old we moved to Iowa to be closer to my mom's family. My medical records were transferred to The Nebraska Medical Center, where I completed treatment.

After 2 years of chemo and a year of maintenance, I was finally done. I enrolled in college, moved into a dorm and was working full-time. Cancer was a word that was no longer in my vocabulary. I lived a normal life and was working on putting the pieces back together. I was healthy, happy and very much in love with life.

Sadly, this feeling was about to be cut short. Two weeks before my 24th birthday, a biopsy confirmed that my bone marrow was being invaded once again. My marrow was 80% leukemia cells. I was crushed, shocked and speechless really. I was sent to the Medical Center immediately to start chemo. But things were going to be very different this time around. Not only was chemo going to poison my body once again, radiation was going to fry my organs. All this in order to prepare for a bone marrow transplant.

This time was much more difficult than the first time. I had to quit my 2 jobs, un-enroll from my college classes, and say goodbye to my social life. My boyfriend and I were not able to afford rent without me working so we had to move into my mom's house. But honestly, that's exactly where I needed to be. My little brother was my comfort through my first go around and he was the second time as well. My mom has been a single parent since he was born. She has truly been the most amazing mom and caregiver that any child could ask for. I don't think I'd be here today without her and my little brother's support.

From February 2014 until July 2014 I did intense chemo and radiation. Luckily, the hospital was able to find me a 10/10 donor match. At the time she was a mysterious angel who was living in Germany. Today, she is no longer a mystery. On July 11th, 2014 I received Sabine Euler's stem cells. The moment they entered my bloodstream, I had a mix of emotions. What if I got GVHD [Graft-Versus-Host Disease]? What if they don't work? What if I don't survive this?

Recovery was extremely hard. I had GVHD of the skin and gut. Treatment for this was the most awful steroid, prednisone. It took forever for my hair to grow back, for the moon face to fade, and to be happy again. My appearance was so unfamiliar. I didn't look in a mirror for almost a year.

When I reached my 1 year re-birthday, I was closer to being myself than I ever thought I would. For me, this was a HUGE milestone. I was able to go another year with only being admitted one time for a severe sinus infection. I am beyond blessed!

Last month I successfully celebrated my 2 year re-birthday! Yet another amazing day I was able to celebrate. Beside me that day were 3 of my biggest supporters, my mom, my baby brother, and my boyfriend of 6 years who has also held my hand, cleaned up more puke than he wanted, and let me cry on his shoulder for months on end. Family and friends were a big part of treatment.

But the number 1 people I owe a huge thank you to are my amazing doctor, Dr. Gundablu at the Med Center, and my extraordinary German donor, Sabine Euler who is now my big sister! 🙂 I owe a big thank you to all my caring nurses, Pas, and staff who really made my experience with cancer suck a little less. The Nebraska Medical Center will forever be my second home. Oddly enough, I miss all of them since I don't go nearly as often as I used to. Without all of them, my life would not be the same.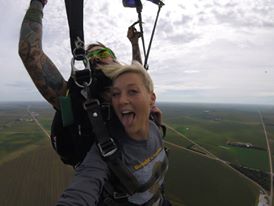 Yesterday (Aug. 28th) I went skydiving for my first time ever! And it was a life changing experience on its own. The old me would have never had the guts to jump out of that plane. With this life God has blessed me with once again, I plan on doing everything I was ever afraid of. You know why? Because I am my own limit and I will never allow myself to be limited. This world is an amazing place, with so much to offer. I think some of us don't stop to see the beauty of it until it is literally slipping out of your hands. Don't let your life lose meaning. Grab it and hold it tight. For in a matter of seconds it can be yanked away from you. Cancer has shown me so much, so very much. Life is more precious than most realize. Dream big and don't EVER give up! All things are possible. I am a 2 time cancer survivor and I am in love with this life.
About the American Childhood Cancer Organization
The American Childhood Cancer Organization (ACCO) is a non-profit charity dedicated to helping kids with cancer and their families navigate the difficult journey from cancer diagnosis through survivorship. Internationally, the ACCO is the sole US member of Childhood Cancer International (CCI), the largest patient-support organization for childhood cancer in the world. Here in the United States, the ACCO promotes the critical importance of ensuring continued funding into new and better treatment protocols for childhood cancer.  And most importantly, the ACCO is focused on the children: developing and providing educational tools for children fighting cancer and their families, empowering them in their understanding of childhood cancer and the medical decisions they must make during this difficult journey. All of ACCO's resources are available free of charge for families coping with childhood cancer.
For additional information about childhood cancer or on the ACCO, or to order resources for you or your child, please visit our website at www.acco.org.
To submit a Gold Ribbon Hero's story, please Click Here. 
For additional information about childhood cancer or on the ACCO, or to order resources for you or your child, please visit our website at www.acco.org , call 855.858.2226 or visit:
Want To Read American Childhood Cancer Organization On Your Phone? Click the NoteStream logo: