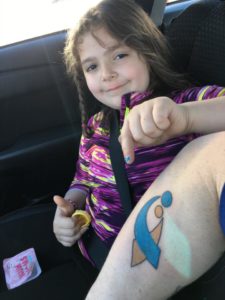 For Jisele, this May has been an eventful month! On May 15, Jisele celebrated her seventh birthday with a beautiful pink princess cake and the perfect birthday present, a doll named Rapunzel. "I played with her and watched her play and it was awesome. To see her having fun and being a normal kid is the absolute best feeling in the world. I am so lucky to call her my daughter," said her father, Juan. Just five days later, on May 20, Jisele celebrated her three-year "cancerversary", the third anniversary of the childhood cancer diagnosis and the start of three long years of treatment. It's been a long journey for Jisele and her family, but they are now looking past her final treatment this month and savoring the anticipation of many more "normal kid" birthdays to come!
Jisele's Dad Juan celebrated May in his own way as well, by getting his third childhood cancer awareness tattoo. We are extremely honored that for this latest tattoo, Juan chose the official symbol for the American Childhood Cancer Organization:
As soon as I saw it, I immediately knew this was the one. It has great meaning to me. It symbolizes a father holding his daughter with his hand/body around her, cuddling her as she rests in his arms…Daddy loves you, Princess, and as I said and always do say, I will forever spread awareness and support for you and all the other kids battling this monster called childhood cancer. One step at a time, together, we will spread awareness.
Frankly, we could not have described the symbolism of our logo any better! Thank you, Juan, for taking the time to share Jisele's story with us and helping us raise awareness about childhood cancer and the bravery and courage of Jisele and all childhood cancer warriors.
Jisele's Leukemia Battle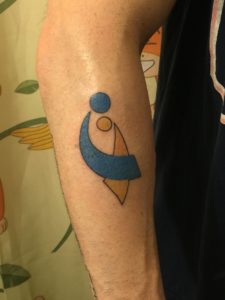 On May 20, 2013, at 2:27 in the afternoon, Juan received the news that hisbeloved daughter Jisele, just past her fourth birthday, had been diagnosed with Acute Lymphoblastic Leukemia (ALL). The most common form of childhood cancer, ALL begins in the cells of the bone marrow, the soft center of the bones responsible for generating new blood cells, and spreads quickly into the blood and other areas of the body. An "acute", or quickly growing, form of cancer, treatment for ALL begins immediately. On May 20, Juan was told that the oncology unit at Massachusetts General Hospital was already waiting for him and Jisele to arrive.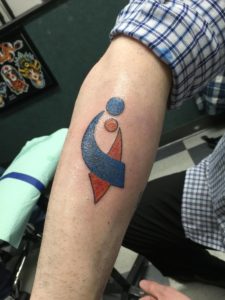 The standard treatment for ALL is several months of extremely intensive chemotherapy ("chemo" for short) utilizing highly toxic drugs tailored to kill the cancerous cells in the blood and bone marrow. If the first two phases of chemotherapy are successful—meaning that 99.9% of the cancer cells have been eliminated and the cancer sent into "remission"—less intensive chemo will continue for about two years to ensure elimination of the remaining cells before "NED", No Evidence of Disease, can be declared.
This, in brief, is the outline of treatment that Juan received in those first traumatic days after diagnosis. But these words couldn't prepare him for what Jisele would have to endure. While the drugs required to beat ALL are toxic to the cancer invading Jisele's body, they were also toxic to the rest of Jisele's young body. The side effects of chemo are both brutal and terrifying for patient and parent alike: hair loss, vomiting, constant soreness, and severe muscle and bone aches are often just the beginning. Yet Jisele faced the daily injections, the spinal taps and port placements, the endless rounds of blood work, the surgeries, and even the soreness and sickness with a smile on her face and fight in her heart, showing her family, her community, and herself the true meaning of courage and survival.
To visit Jisele's Leukemia Battle Facebook page, Click Here.
Spreading Awareness Forever
For Juan, the last three years have been a life changing event, and he has dedicated himself to the fight against childhood cancer as completely as anyone possibly can! In addition to his awareness tattoos, he is now organizing multiple awareness projects, and routinely carries with him "awareness cards" that he can distribute to anyone willing to lend their ear and their aid to his battle. Juan says his inspiration comes from seeing his daughter's courage and strength every day as she battled this "monster":
"You are my true hero. I am so proud of you. Together we are warriors…nothing will beat us. I love you!"
About the American Childhood Cancer Organization
The American Childhood Cancer Organization (ACCO) is a non-profit charity dedicated to helping kids with cancer and their families navigate the difficult journey from cancer diagnosis through survivorship.  Internationally, the ACCO is the sole US member of Childhood Cancer International (CCI), the largest patient-support organization for childhood cancer in the world.  At the national level, the ACCO promotes the critical importance of ensuring continued funding into new and better treatment protocols for childhood cancer.  At the grassroots level, the ACCO is focused on the children: developing and providing educational tools for families and learning resources for children in order to make the lives of children and their families easier and brighter during this difficult time.  Many of our resources are available free of charge for families coping with childhood cancer.
For additional information about other childhood cancer warriors, to learn more about childhood cancer and the ACCO, or to order free resources for you or your child, please visit our website at www.acco.org.
For more information about the American Childhood Cancer Organization and how we can help, call 855.858.2226 or visit:
Want To Read American Childhood Cancer Organization On Your Phone? Click the NoteStream logo: