Baby Crom's Cancer Journey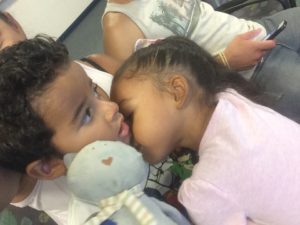 Cromwell's cancer journey began on January 17, 2014 when he suffered a severe stroke that left him paralyzed on the left side of his body. Unsure of what caused the stroke, Cromwell, or "Baby Crom" as his family and supporters affectionately call him, returned home with his family until February 9, when he began urinating blood and blood clots. Rushed to the hospital for an ultrasound, the physicians found a mass in his left kidney. Follow-up scans the next day discovered more bad news: the tumor in the kidney had spread to the lungs. Surgery was scheduled immediately; on February 14, 2014, Baby Crom underwent surgery to remove the tumor, his entire left kidney, and three smaller tumors in the abdomen.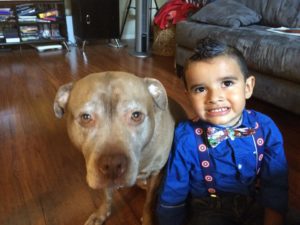 Four days later, as Baby Crom recovered from surgery, his parents were given the diagnosis: Stage IV Nephroblastoma, also known as Wilms Tumor, a form of kidney cancer diagnosed in about 500 children every year. Cromwell's parents were devastated; after all, they knew that a diagnosis of "Stage IV" cancer in adults means the cancer has metastasized, or spread, so extensively that successful treatment is extremely difficult. The prognosis in Baby Crom's case was not so dire, however: the oncology team explained that Stage IV indicated that the tumor had spread beyond the kidney but was still potentially treatable with surgery and chemotherapy. Moreover, Baby Crom's tumor was considered "favorable", meaning that it did not show very much anaplasia and would likely respond well to treatment (in tumors with an "unfavorable" histology, the cancer cells' appearance vary widely and tend to have very large, distorted nuclei; these anaplastic tumors often prove more resistant to treatment).
After surgery, Baby Crom underwent six months of chemotherapy targeting the tumors in his lungs, as well as radiation treatments targeting the area of the left kidney to destroy any remaining cancer cells left behind after surgery. Nine months after his stroke, eight months after his surgery and diagnosis, Baby Crom scans showed "No Evidence of Disease"!
Baby Crom and "The Many Adventures of Cozy the Port-a-Cat"!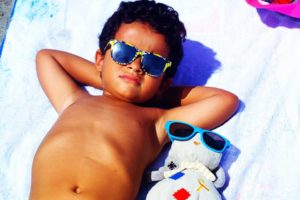 The "port", or "port-a-cath" is a standard element of every childhood cancer patient's story. Chemotherapy is administered directly into the bloodstream, yet because of the intensity and frequency of the treatments, using standard intravenous delivery can be extremely uncomfortable, especially for young children. Instead, doctors surgically implant a "port" into the chest or upper arm that enables them to safely and comfortably deliver medications and draw blood without requiring needle insertion. The ACCO developed "Cozy the Port-a-Cat" to help children understand the port and other medical procedures, alleviating some of the fear and anxiety that often accompany the many medical procedures childhood cancer patients face during and after treatment.
Baby Crom developed a very special relationship with both his Port-a-Cat and, in fact, with his port! Shortly after what his family called his "second chance day"—the second anniversary of his initial surgery—Baby Crom underwent a second surgery to remove the port. Baby Crom, however, was extremely resistant to removing the port. As his mother noted, "His port has become so much a part of Baby Crom's life that he struggled to part with it. He insisted the port was 'his' and he didn't want the doctors to take it away from him." So his oncology team respected his wishes; after removing it, they saved it, sterilized it, and returned it to him in the mail!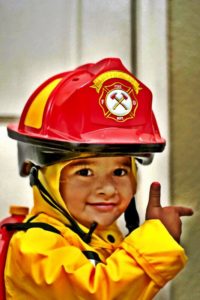 Today, Baby Crom and his family continue to cope with late effects from both the stroke and cancer, as well as celebrate the standard milestones of childhood. He no longer requires speech therapy. He continues with physical therapy to regain mobility and strength on the left side of his body, and was recently fitted with a new leg brace to keep up with his rapid growth. Swimming, gymnastics, and even horseback riding with therapy horses have all played a huge role in helping him overcome the physical challenges left behind by the stroke. Unfortunately, he continues to struggle with pulmonary issues, potentially due to asthma and allergies, as well as the effects of the tumors in his lungs. At times, he has struggled with infections; because he now has only one kidney, the heavy use of antibiotics can be problematic. Yet throughout his entire cancer journey, Baby Crom's family has been inspired by his fighting spirit, by his unwillingness to let anything get in the way of his natural childhood exuberance and joy!
[mpa:id=14,header=false,desc=false]
About the American Childhood Cancer Organization
The American Childhood Cancer Organization (ACCO) is a non-profit charity dedicated to helping kids with cancer and their families navigate the difficult journey from cancer diagnosis through survivorship. Internationally, the ACCO is the sole US member of Childhood Cancer International (CCI), the largest patient-support organization for childhood cancer in the world. Here in the United States, the ACCO promotes the critical importance of ensuring continued funding into new and better treatment protocols for childhood cancer.  And most importantly, the ACCO is focused on the children: developing and providing educational tools for children fighting cancer and their families, empowering them in their understanding of childhood cancer and the medical decisions they must make during this difficult journey. All of ACCO's resources are available free of charge for families coping with childhood cancer.
For additional information about childhood cancer or on the ACCO, or to order resources for you or your child, please visit our website at www.acco.org , call 855.858.2226 or visit:
Want To Read American Childhood Cancer Organization On Your Phone? Click the NoteStream logo: