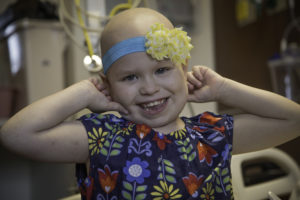 With September—Childhood Cancer Awareness Month—just around the corner, we would like to take a few minutes to thank Anna and her family for taking the time to be part of our awareness activities in Chicago in mid-June. After a year of treatment for T-Cell Acute Lymphoblastic Leukemia, Anna is currently in the middle of aggressive chemotherapy designed to eliminate the last remaining cancer cells in her blood so she can move to the next phase of treatment: maintenance. Yet despite a prolonged hospital stay as Anna's young body continues to struggle with the effects of the aggressive treatment, she was excited to participate in this important awareness campaign, to act as an ambassador for all the many childhood cancer warriors facing this terrible disease. It was truly an honor to meet her!
Anna's Story
September of 2015, Anna was a typical 5 year-old starting kindergarten. However, only three weeks into the school year, this typically energetic and sassy redhead was becoming more and more lethargic, with fevers that wouldn't stay away and bruises that kept coming back. After bringing her to urgent care on a Sunday afternoon, Anna's parents knew something just wasn't right and took her to the ER for a follow-up. While the sense of urgency was ultimately correct and somewhat expected, the diagnosis certainly wasn't. Anna's parents were told she likely had leukemia and was very, very sick. She was sent directly to the PICU where she spent the next several days and additional days in the pediatric ward where she was ultimately diagnosed with T-Cell Acute Lymphoblastic Leukemia, a sub-type of leukemia, which is a cancer of the blood and bone marrow.
Cancer Diagnosis
In the early days after diagnosis, Anna's family members were inundated with a whirlwind of information amidst their concern around their little girl's life. Within the first couple of days, Anna had surgery to place a port, decisions needed to be made about whether or not to treat her as part of a clinical study, and instant education needed to happen around a plethora of unfamiliar vocabulary and options for a very overwhelmed and frightened set of parents. Both Anna and her concerned older sister were thrown into a scary place as a patient and a sibling that involved serious yet child-friendly dialogues around cancer and what it would mean for everyone involved.  And of course Anna herself had to adapt to being poked and prodded endlessly, forced to take many awful medicines to bring her body into a safe place for early and aggressive treatment, all the while trying to understand as a kindergartner why all of this was so important and necessary.
T-Cell Acute Lymphoblastic Leukemia Treatment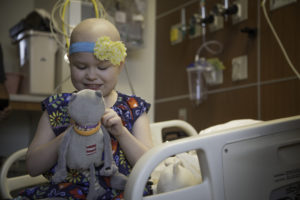 There was an exceptionally fearful time in the early weeks of treatment where a suspected life-threatening turn of events required a rapid response from the emergency staff on the pediatric floor, and Anna's parents were told to prepare for the worst. Luckily, it was determined that it was a lesser threat of kidney stones, but that led into very painful days for Anna to pass the stones, all while enduring chemotherapy and being on a low sodium diet during a phase of treatment where the side effects drive patients to crave salty food. All in all, it was one of the most miserable and terrifying phases of her they had experienced to date.
In spite of this set of conditions, Anna showed a tremendous will of spirit. She loved her new friends in the hospital from Child Life, the nursing staff, and the hospital volunteers. She thought the toys and playtime to explain the medical routines were a treat, not a chore.  Her joy in these trying times helped to lift her family through this seismic shift in their lives, especially through many of the logistical challenges. The daily life activities of Anna's sister's school attendance, homework, sports, pet care, household chores, etc. all still needed to happen while one parent remained in the hospital at all times.
As time passed and Anna's treatment shifted to primarily weekly outpatient visits with planned inpatient stays for longer chemotherapy sessions, her road map was anything but certain. Several times she spent multiple days in the hospital due to fevers or side effects from treatment. Lumbar punctures, chemotherapy, and transfusions become commonplace, which no child nor family should have to come to know. However, at least the plan was in place, and Anna was responding to treatment. By January she was declared to be in remission…one step closer to the ultimate goal of curing Anna of cancer entirely.
Anna Now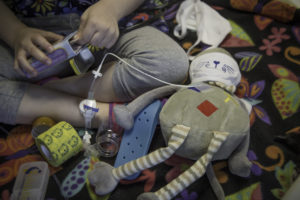 Anna is currently still in treatment and close to reaching the beginning of the next phase…maintenance, where she will continue aggressive support of staying in remission for at least several months beyond that. The calendar is not yet completely certain, as it is completely dependent on how the days and weeks of treatment pass in the meanwhile. The chemotherapy has been brutal for Anna, and she has sometimes had delays between treatments due to the effects and how she recovers from each session. However, Anna is a fighter, and she is looking forward to returning to school this year, in spite of the ongoing risks and having to be isolated or excluded if her body has a tough time with ongoing treatment. Her family continues to try to creatively keep Anna focused positively on fun in spite of the hard work. Fighting as a family toward beating cancer has brought them closer together and helped them to be more inspired to live life with meaning and joy in spite of the dark and scary days in between.
To submit a Gold Ribbon Hero's story, please Click Here. 
For additional information about childhood cancer or on the ACCO, or to order resources for you or your child, please visit our website at www.acco.org , call 855.858.2226 or visit:
Want To Read American Childhood Cancer Organization On Your Phone? Click the NoteStream logo: