ACCO and TriDerma®

The ACCO is very excited to highlight our special partnership with TriDerma®, an industry leader in high-quality medical skincare products. TriDerma® has generously committed to supporting the ACCO's ongoing mission to improve the lives of children undergoing treatment for childhood cancer and to bring ever-greater awareness to the courage and bravery of cancer's youngest warriors. We are very pleased to have the opportunity to work with TriDerma®, and hope that together, we can bring comfort and relief to the many childhood cancer warriors undergoing treatment today.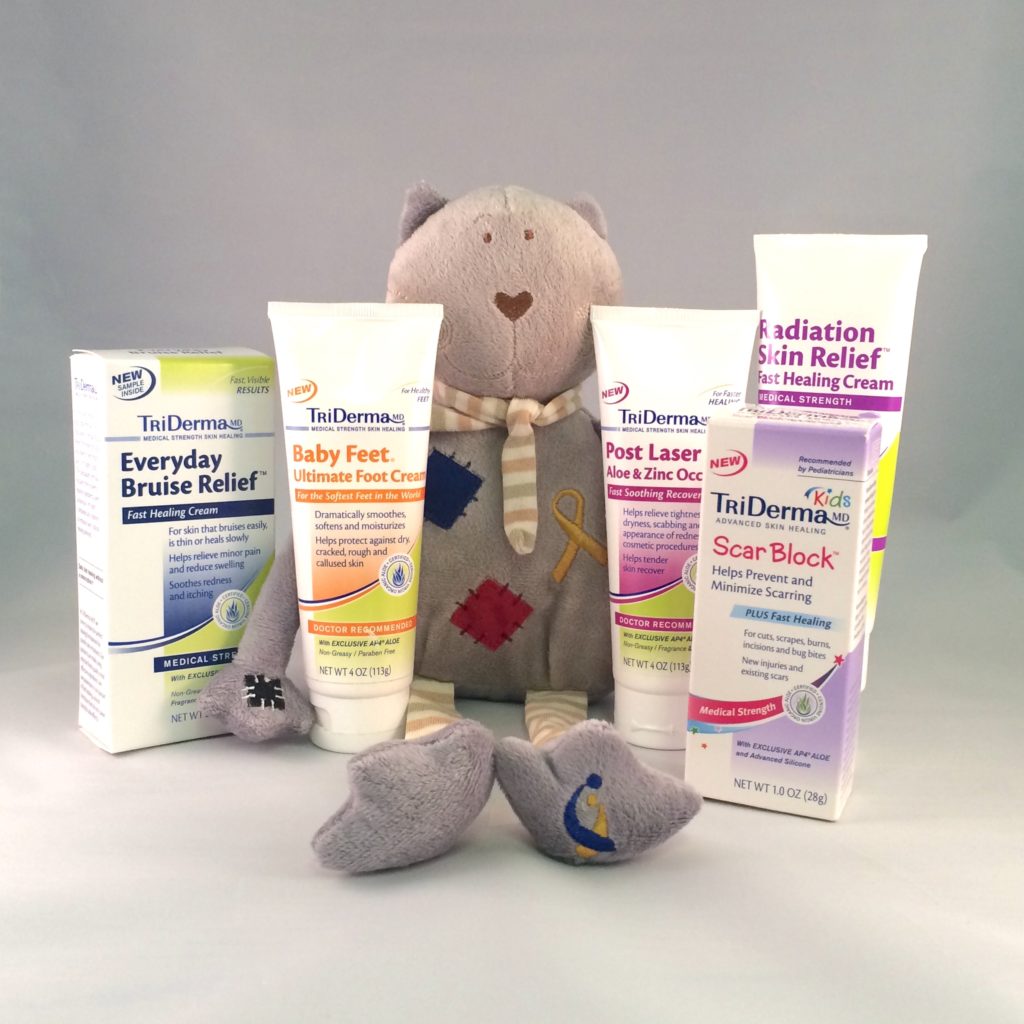 During August, September, and October, TriDerma® is donating 20% of their proceeds from the sale of five specialty products to the ACCO! These products have been selected for a very specific reason: although they speed healing for many common skin concerns, they are also ideally suited to relieve some of the pain and discomfort caused the harsh, toxic chemotherapy and radiation protocols required to treat childhood cancer. These products are carefully formulated with the highest-quality, hand-selected ingredients and designed to stimulate faster healing without irritation or harmful side effects.
• Baby Feet® Ultimate Foot Cream
• Everyday Bruise Relief™
• Post Laser Aloe & Zinc Occlusive™
• Radiation Skin Relief™ Fast Healing Cream
• Scar Block® for Kids
20% of the proceeds of your purchase of these products in September and October will go directly to the ACCO, enabling us to continue to provide ongoing education and resources for children and their families facing childhood cancer. These TriDerma products are available for sale in major drugstores across the United States and through www.triderma.com.
TriDerma® and the ACCO are celebrating the courage of childhood cancer warriors around the country! If you know an exceptional child fighting cancer, we are asking you to share that child's story and how the ACCO has helped you navigate your difficult journey. Every week, TriDerma® will randomly select one child to highlight on its social media pages and to receive one free TriDerma® product of their choice. At the end of each month, TriDerma® will randomly select a winner of a TriDerma® gift basket! The ACCO is very excited to work with TriDerma to share these beautiful, touching stories of children who refuse to give up, who refuse to let cancer win! We wish we could share all the incredible stories we have received thus far; here are just a few to demonstrate the power and courage of these children.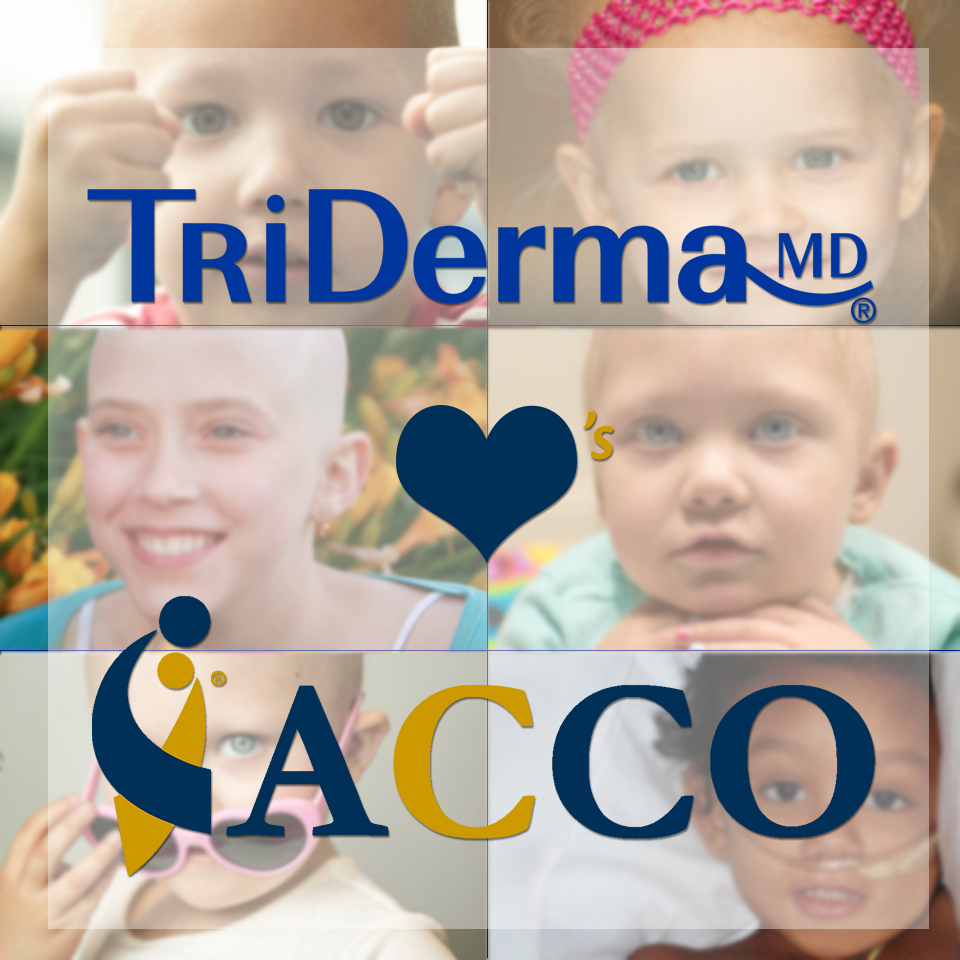 Jessen was diagnosed with stage 4 high-risk neuroblastoma in March 2013. During six rounds of chemo, five surgeries, a stem cell transplant, radiation, and antibody treatments, he developed a bowel obstruction caused by internal scarring. Jessen's treatments ended in May 2014 and he lives a happy, active life, but has been left with severe scarring.
Mya was born with a malignant germ cell tumor, and underwent surgery followed by chemotherapy at just three months old. Her last treatment finished on August 24 and doctors feel confident that she is now cancer free!
Nate was diagnosed in 2006 with ALL at three years old. After three and a half years of chemotherapy, Nate went into remission. Now 12, he is doing well, but must have IVIG every four weeks to boost his immune system, which was permanently destroyed by the chemotherapy.
Noah was born with down syndrome and in January of this year, was diagnosed with ALL at the age of 4. He has reached the maintenance phase of his treatment, and is very happy to be home with his family!
Jabin was diagnosed with a rare brain tumor known as pineoblastoma in June 2006. After brain surgery, intensive radiation, four months of high dose chemotherapy, and a second brain surgery, Jabin's prognosis seemed good. Unfortunately, he then developed a second tumor in his brain and two in his spinal fluid. He went to heaven in August 2007, and remains a hero to all who knew and loved him.
Special congratulations to Mandy J., winner of the month of August! Mandy's daughter Lila was diagnosed with AML on her two-month birthday and remains in the hospital undergoing chemotherapy. Now four months old, she faces more chemotherapy and a potential bone marrow transplant. Our thoughts are with Mandy and Lila as they continue to stay strong through this difficult struggle.
If you have a story of an amazing child to share, look for our weekly #ShareYourStory post during September and October, and be sure to LIKE, SHARE, and COMMENT with your special story and how the ACCO has helped you and your family stay strong in the fight against childhood cancer. Help us thank the wonderful people at TriDerma® for their amazing contribution to the ACCO and to the entire childhood cancer community!
TriDerma Cancer Help in the News:
For more information about the American Childhood Cancer Organization and how we can help, call 855.858.2226 or visit: