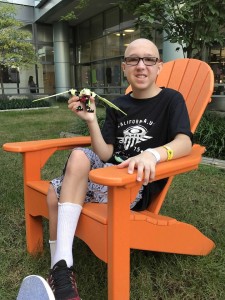 We were having one of the best summers ever.  It was filled with the celebration of our oldest son, Sean graduating high school. We took a family trip to Puerto Rico in June. It was such an adventure. And for Jake adventure was his middle name.  Jake has one of the best imaginations of anyone I know. He loved hiking, exploring old abandoned railroads and creating.  He was a master builder. You could hand him almost anything and he could turn it into something. Legos, building blocks, sticks, rocks, you name it and he could make something out of it.  He especially loved the beach. He'd spend hours playing in the sand creating sculptures and scenes that he could play in from sun up to sundown. Jake also loved dragons. His dragons were very special to him because he always felt they protected him.  You see Jake was also diagnosed at an early age with PDD-NOS (a mild form of autism) and ADHD. He faced many challenges every day trying to succeed in school and this caused him anxiety and stress. So his imagination and ability to fantasize helped him to cope with his difficulties.  
When we returned home from vacation, he started summer camp at his school as he did every summer.  In August, he was signed up for a community camp. It was something we had not done with him since he left the public school five years ago to attend his school which was for children who learn differently.  He was excited to go but was complaining on the first day about a pain in his shoulder. We brushed it off thinking it was just nerves and we tried calming his fears. By the third day of camp he came home not feeling well and still complaining about his shoulder.  So we took him to the doctor. At first it was a wait and see. But by the end of that week his other symptoms cleared up and the shoulder pain remained. We decided to take him to the ER for an x-ray one night when he could not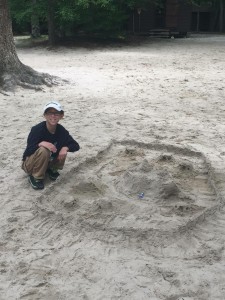 sleep. They x-rayed his chest, told us he looked fine and sent us home.  About four hours later I received a phone call from the hospital. The radiologist was going over his pictures and found a large mass in his chest. I was stunned. After that call, it was a flurry of rushing off to the children's hospital for tests. It took two full weeks to finally learn that Jake has Peripheral T-cell Lymphoma, NOS.   It is extremely rare in children. In fact of all the children who have been diagnosed there were no two cases alike. It is more prevalent in adults although rare in this population as well. Jake sailed through his first rounds of treatment like a champ. He handled it all so much better than we ever expected. He was so brave. In December he finished his first rounds of treatment.  In January as we were preparing for him to have an autologous stem cell transplant we learned that his cancer had started to grow again. We put the stem cell transplant on hold to start new rounds of therapy. Because this cancer is so rare our doctors were off the grid as to what treatment to try next. It was anyone's best guess. We consulted with doctors and researchers all around the country.   The treatment caused complications which ultimately cost Jake his life. He went on to fly with the dragons on February 9, 2018.
Through all of this journey, we learned so much about pediatric cancer and what needs to be done so that our children do not have to suffer.  Every cancer should have treatment options. We need more research and better cures. 4% is not nearly good enough. Our family and Jake's Dragon Foundation are committed to funding research for better cures, helping families and spreading awareness and advocacy.  We will do this so no other family has to bear what our hearts are feeling right now. We will do this for our love for Jake.