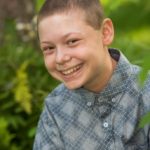 Our lives forever changed in August 2013, when my 10-year-old son, Zachary, was diagnosed with a rare aggressive bone cancer, Ewing's sarcoma.  I had been employed full-time as a Human Services Caseworker, since the year 2000, raising my son on my own.  I was determined to provide him with the best life possible, but our world came crashing down and quickly spiraled out of control.  It was surreal and unbelievable, especially after my son and I had led a healthy and active lifestyle.  Prior to the diagnosis, my son was experiencing persistent pain and tingling in his right arm.  What was believed to be a "growth spurt," by local doctors, turned out to be a parent's worst nightmare, childhood cancer. This diagnosis has scarred me for life and left me in a state of constant worry as to whether my son would survive.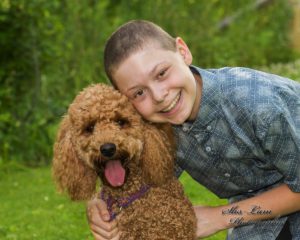 As Maine state employee since the year 2000, I have committed my life to working with children and families through the Office of Child and Family Services, facilitating efforts to protect our most vulnerable children, who are exposed to abuse and neglect.  I raised my son as a single working mother and remained committed to my employer despite the adversity placed before me.  From August 2013 to July 2014, it was unavoidable for me to be away from work, as my son endured countless chemo treatments, which rendered him seriously ill as a result of the toxicity of the harsh chemotherapy he received, which occurred three hours away from home. For an entire year, we traveled countless miles and were displaced from home in order for my son to receive pediatric oncology treatments in Bangor ME.  He also endured 6 weeks of proton radiation and surgery in Boston MA, where we resided for 5 months.  I returned to work around August 2014 and worked full-time through July 2015, during the time that my son was considered in remission.  Despite the anguish and uncertainty, I was determined to continue to persevere and provide for my son.
Around July 2015, my son underwent a routine chest x-ray and was diagnosed with a growth on his right lung. Despite the strenuous treatment efforts previously, my son was diagnosed with a recurrence of Ewing's sarcoma, which created additional trauma and insurmountable worry and stress.  I was found in another desperate predicament and was told by my son's oncologist that the recurrence would be difficult to treat. Despite various chemo treatments from August 2015 through July 2016, the tumors on my son's lungs continued to grow and attached to his diaphragm, esophagus, and heart.  We had reached a juncture where my son's cancer had become resistant to treatments.  My son's condition quickly declined and he earned his Angel wings on October 22, 2016, and I am devastated beyond comprehension.  From our experience with pediatric oncology, I have learned that only 4% of the National Cancer Institute's budget is allocated towards pediatric cancer research and treatments, and in particular, my son's cancer having received the least amount of research is disturbing, despite it being an aggressive form of childhood cancer.  There are steps you can take to advocate for more research and treatments for all childhood cancers by writing to your members of Congress.
There came a time around the Fall of 2016, where I was faced with uncertainty as to whether I would maintain employment and my hard-earned seniority of 16 years; and simultaneously learned from my son's oncologist that he was a "Do Not Resuscitate" patient. All of this was beyond what anyone could understand unless they had experienced it.  As of January 3, 2017, I have returned to work and I am truly grateful to continue to be employed.
In closing, I would like to take this opportunity to express my deepest gratitude for all those who supported us through our journey and for those who will continue to offer support. The world lost another precious child to childhood cancer but I will not stand by and do nothing. Through Zachary's memory I would love to offer support to other pediatric oncology families as Zachary did not die in vain, he certainly had a purpose. I will see that his kindness and compassion for others will live on.
Thank you,
Peggy Gagnon (Zachary's mother)