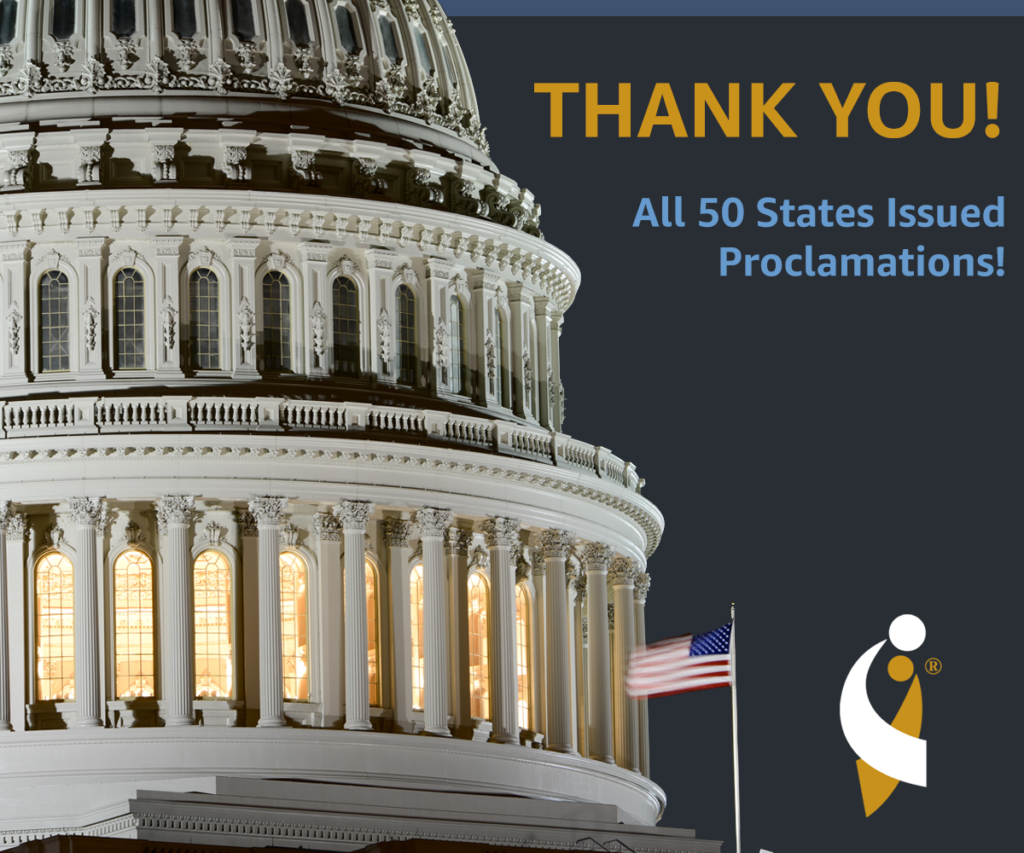 Earlier this year, the American Childhood Cancer Organization (ACCO) set a goal of obtaining official proclamations in all 50 states recognizing September as Childhood Cancer Awareness Month. We're excited to share that with your help – and the help of Amazon – we reached our goal of 100% participation across the U.S.!  We couldn't have done it without you, your response was astonishing. We are so thankful you chose to GO GOLD and take action!
The success of the state proclamations campaign shows how big things can happen when our families, the private sector, and public health community combine forces to work together.  Amazon Public Policy worked with ACCO to get us over the finish line and make key connections with leaders in our last remaining states in order to close the gap and help us reach all 50.  Thank you, Amazon for continuing to utilize your resources to engage in the fight against childhood cancer!
Now it is time to say thank you to each Governor and continue the conversation about the importance of raising awareness of childhood cancer all year long.  Our continued success is dependent on keeping those connections over time so that we can work together towards making childhood cancer a health priority in every state in the nation.  Please be sure to take two minutes to send a quick thank you and let your Governor know how meaningful this is to you and your family.
Please click the link below to send a thank you message to your Governor!
THANK YOUR GOVERNOR »
Thank you in advance for your continued support of the American Childhood Cancer Organization!
"As the mother of brave childhood cancer warrior, Paxton (featured in the image below) I personally can't thank each and everyone one of you enough for the time you took to reach out to your state. I also will forever be grateful to our new corporate supporter and friends at Amazon for joining the American Childhood Cancer Organization in this fight! I am humbled and proud to be a part of this amazing team and can't wait to tell my son what he, and children and teens like him, have inspired myself and others to do! …Because kids can't fight cancer alone!"
Jamie Bloyd
Director of Government Relations and External Affairs
The American Childhood Cancer Organization