Here at the American Childhood Cancer Organization Inland Northwest we are very lucky to have amazing volunteers and supporters that donate their time and resources.  Jeff Thaxton is one of those supporters that reached out to us with an idea to help raise money for ACCOIN.  Jeff is a local triathlete and has been preparing long and hard for the Tiger Triathlon held in Colville, Washington on Saturday July 21st 2018 at 8:00am.
This year Jeff will be participating in the Tiger Triathlon and fundraising for ACCOIN by:
SWIMMING 1 KILOMETER
BIKING 40 KILOMETERS
RUNNING 8 KILOMETERS
Please click on the DONATE tab and help Jeff reach his fundraising goal of $1000.  Please indicate that your donation is in support of Jeff's fundraiser so that we can keep track of how much Jeff has raised.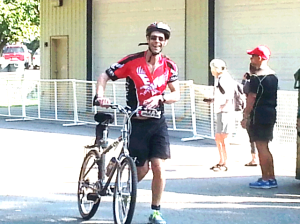 We are truly grateful to Jeff Thaxton and all of the local Hero's for their dedication and determination in helping local families through a Childhood Cancer Diagnosis.
For more information about what ACCOIN does follow the link below and remember to click the donate button to help Jeff reach his fundraising goal.
---