VISIT THE APP STORE TO PURCHASE YOUR COPY!
Developed by a two-time cancer survivor, iCANcer is the first app specifically designed to help cancer patients, caregivers, and cancer survivors manage their medical information. This app will personalize the "Cancer Journey" and store all your important medical information including cancer treatments, medications, medical issues, appointment information, and medical contacts in the palm of your hand.
---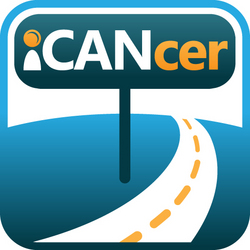 Features to put your mind at ease:
Password protected
Exports medical information
Organizes doctor appointments
Stores questions you have for specialists
Manages medical history
E-mail your information to a new doctor
Also, the new features in 1.1 include:
Sync doctor's appointments and upcoming tests with the iPhone/iPod calendar
Select between Imperial and SI Units to easily capture lab results
New Graphics and updated support features
---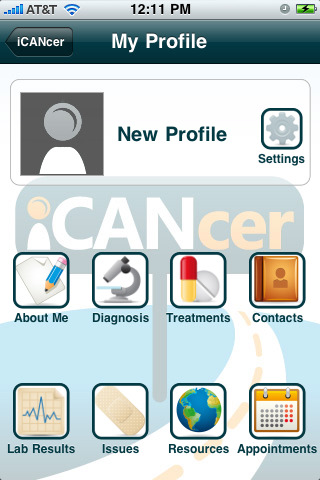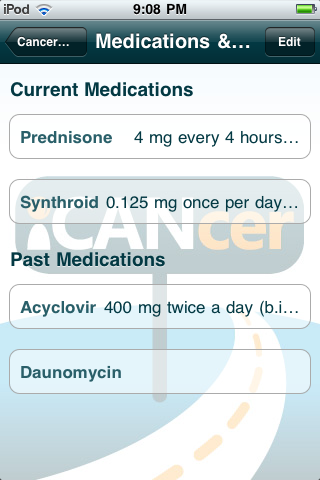 Purchase from the App Store Today »
---
Cancer Patients
iCANcer is password protected and is tailored to capture and export medical information such as current and past medications, chemotherapy, radiation and transplant information. Keep track of important test results and graph lab trends over time. Organize your upcoming medical appointments and keep track of questions for and answers from your doctors.

Cancer Survivors
Providing an accurate medical summary including lifetime exposure to chemotherapy medications and radiation as well as previous and current medical issues is important to ensure proper follow-up care. iCANcer helps you manage your medical history and allows you to e-mail a new doctor specific medical information in preparation for an office visit.

Cancer Patient Caregivers
iCANcer allows the user to manage current medications and any noted side-effects. It manages upcoming appointments and provides helpful resources available in the cancer community. It also includes the ability to E-mail specific information for upcoming appointments within the app to the patient or directly to the doctor.

What People are Saying About iCANcer
"My mother and sister-in-law are cancer survivors. The complicated process of documentation and record-keeping during and post-treatment is exhausting. iCancer streamlined stacks of unorganized medical record folders into something we can carry in our pockets and in the palm of our hands. Great App!"
"As a mother of a child with cancer this just what I've been looking for! I love that it will graph his labs, vitals, height and weight. Plus, it keeps track of current and past medications and any side effect of issues he may have. Just wish this had come out 2 years ago!"
"Great app! From tracking all medical needs to maintaining personal and family medical history, it is so useful! I love it! Check this out! It's a one of a kind and worth every penny! 5 stars out of 5."
Purchase from the App Store Now »
---
Legal Notice: iCANcer is independent of medical centers and government. iCANcer does not connect to the internet or store any information elsewhere on your device.
iCANcer information is as accurate as the data entered by the user and is not intended to replace the use of medical records. The developer of the app cannot be held responsible for accuracy of the information, treatments, outcome of health care or transfer of medical information to health care providers.