UPDATE: *NAME SUBMISSIONS ARE OPEN!*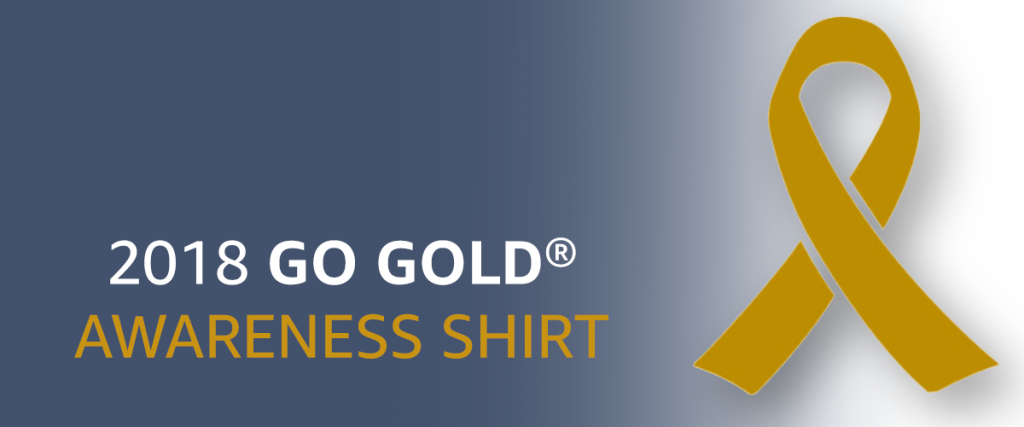 2018 Go Gold® Awareness Shirt –
Please submit a name for the 2018 Go Gold® Awareness Shirt available for September – Childhood Cancer Awareness Month. To submit a child or teen's name, who has fought or is still fighting childhood cancer, please click this link: http://s.acco.org/NameForm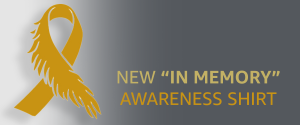 New, 2018 "In Memory" Awareness Shirt –
This year we are offering a new "In Memory" Awareness Shirt. We have created a new gold ribbon wing, which will be featured on the shirt in memory of children or teens that have been taken too soon. Please click this link to add a name to the very special "In Memory" Awareness Shirt: https://s.acco.org/InMemoryNameForm
No purchase necessary to submit a child or teen's name. Name(s) will be printed on the Awareness Shirts and will be available for purchase in July and August to help raise much needed awareness during Childhood Cancer Awareness Month in September!
If you have any questions or need confirmation that the name you submitted is correct please email shirts@acco.org. Shirts in collage are from previous years. Thank you to all the families who have given us permission to share their photos. Visit this link for more information: https://www.acco.org/gogoldshirtinfo/
MORE INFORMATION ABOUT ACCO'S SIGNATURE GO GOLD AWARENESS SHIRTS
PLEASE BE SURE TO JOIN OUR E-MAILING LIST AND FOLLOW OUR SOCIAL MEDIA FOR UPDATES, DEADLINES, AND OTHER IMPORTANT ANNOUNCEMENTS RELATED TO THE AWARENESS SHIRT CAMPAIGNS.
GO GOLD SHIRT INFORMATION, TIMELINE AND PROCESS:
Name Submissions and List
The "Name Submissions" process is the first stage for the Go Gold® Awareness Shirt campaign. The deadline will be announced via email and social media. Any names submitted after the announced deadline are added the next Awareness Shirt campaign, which is usually our ICCD Awareness Shirt, available in December. Name submissions may only be made using the submission form at http://s.acco.org/NameForm.
The "Check the List" stage is when you will have a limited time to check the name list for accuracy. The published public list  shows how the name(s) will be printed on the Awareness Shirts. This stage is very important and is only available for a short time, such as a few days! We cannot emphasize enough to please take the few minutes to double check your submission(s) for accuracy by searching the "live list" at the link provided via email or on social media. Or, by visiting the ongoing ACCO Awareness Shirt campaign page hosted by Custom Ink. Requested edits will only be accepted during the specified timeframe, so please don't miss the deadline. Once the "plates" for the design are created no further changes are possible until the next campaign.
Also, the "Name List" should be verified each time by everyone who submitted a name, even if you have had one carry over from shirt to shirt and year to year. Since ACCO started running our Signature Awareness Shirt program many years ago, the vendor we use to provide our shirts has experienced several significant changes that resulted in multiple lists being combined and the potential for an old revision request not being applied as expected. Always check the "Name List" as soon as it is available for accuracy.
Please allow 48-72 business hours for submitted names and/or edits to be made to the "live list" and campaign page.
Prior to 2016, we collected names on a per project basis and did not carry names over from project to project, however we now offer that option. If you would like a name to carry over from shirt to shirt simply select yes for the question "Save Name for Future Projects" on the submission form. We will only be collecting names using this link to help streamline the process.
Ordering, Processing, Printings, Pricing and Shipping
Orders do not process and ship until each run closes. It takes approximately 2-3 weeks from the closing date for orders to be received. International orders take longer and vary depending on location.
There is no guarantee that shirts will be delivered before September 1st, although we honestly do everything we can possibly think of to make this happen! We know how important these shirts are to you and the very precious names they honor, but please remember that there are so many factors that go into these campaigns. When ordering for "Run One" our goal is to get you your shirt before the start of Childhood Cancer Awareness Month, September 1st.
Depending on the demand, we will often open a "Second Run" for the Awareness Shirt campaign, for those who may want to order additional shirts or who missed the first deadlines. Again, it's always best to check our social media and or emails for more information or details.
The price for shirts usually starts at $25 (plus shipping) and go up from there depending on size and style. International shipping fees vary depending on location, but average around $13.
Where the Funds Go and Who's Names Are On The Shirts?
Since our Go Gold® Awareness Shirt honors so many children and teens that have fought or are still fighting childhood cancer, we have to divide names onto more than one shirt.
Names are in alphabetical order by last name or initial.
For siblings, cousins or friends that also fought cancer or are still fighting cancer, we accept special requests to have names placed together in order to print on one shirt. The group will be alphabetized by the last name of the child and/or teen in the group that is first in the alphabet. When ordering a shirt, you will see names that are grouped together using the "Search & Select Name for Shirt" field.
All proceeds from this awareness campaign support our free resources for childhood cancer families, programs, awareness events, advocacy campaigns and more. To see our specific financial data, please visit https://www.acco.org/donate/ and select the Annual Report link at the bottom of the page. Your purchase will go towards providing quality free resources designed for children and families who are fighting or have fought childhood cancer, to coordinating local assistance and to leading national and international advocacy campaigns for greater awareness and more research.
More Information and Who to Contact
Please email shirts@acco.org with any questions and/or edit requests.
Names used in the design thumbnail are not accurate and are only used as an example.
Once you receive your shirt, please wear your shirt as much as possible during Childhood Cancer Awareness Month. Also, please take photos and email them to shirts@acco.org or share it on our Facebook Page or Instagram Page so that we may share the photo in our Go Gold® Awareness Shirt Photo Album on our website and social media.
To learn more about ACCO and what we do, please visit our Home Page.
We sincerely thank everyone who has submitted a name, plans on submitting a name and for those who are going to order and wear a shirt to help raise awareness during Childhood Cancer Awareness Month, September.