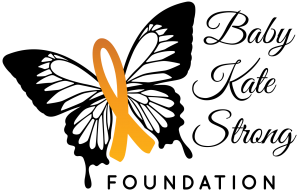 After running a fever for 5 days with no symptoms we decided it was time to take Kate to the
pediatrician for lab work. On September 26, 2018 the pediatrician, who is a good friend, text me at work
and said I need to meet with you Justin about Kate's labs. After work we went to her office and spoke
with her. She said all of her labs are very abnormal. Her platelets were 76, her hemoglobin was 6.9, and
her white blood cells were 21,000. She had scheduled Kate an appointment for the
hematology/oncology clinic at our children's hospital for the next day but checked her temperature
while we were there. Since her temp was over 100.4 she sent us directly to the ER.
Once we got there they ran every test possible. More blood work, x rays, viral panels trying to find
something. After a few hours of being there the ER doctor came in and said all her test except her blood
work came back fine and that Dr. Pais, the on-call hematology/oncology doctor will be here soon to
meet with you all. We asked the ER doctor to tell us what we were looking at and that was the first time
we heard the word leukemia. Dr Pais came in and spoke with us and explained at this point we don't
have a final answer, but there is nothing else it can be and we will be admitted to the hospital for more
test to be ran and wait for the final tests to come back.
That night we spent our first of many nights on 2 east. The next day we were in the playroom with Kate
playing when Dr. Pais came in and told us the test was back and that our 2 year old had Acute
Lymphoblastic Leukemia. He stated he would come back later and discuss her road map for treatment
and we could ask any questions we had then.
We never imagined we would spend the next 2 and half years fighting for her life, but we knew we had
no choice. During the first week we realized the same 2 or 3 movies the hospital showed on repeat
would make us crazy. We knew at that point we would at least spend 10 days there this time and that's
when we decided we needed a Roku streaming stick so Kate could watch her shows, we could watch our
shows, and it was somewhat like being at home. We then learned on day 29 that Kate was high risk
because she was not responding to the chemo like she needed to, which meant a lot more hospital
stays. In total we spent 61 days in the hospital, several weeks in the Ronald McDonald House, and
months in isolation to our house. The Roku streaming stick helped to keep us sane in our home away
from home.
9 months into treatment when things started to calm down with treatment, we started discussing how
we wanted to help other families by giving them Roku sticks, Netflix cards, and/or Disney + cards. Now,
that Kate has finished her treatment we are ready to focus on our foundation and helping other families who are given the burden of being a childhood cancer family.