New initiative seeks to address the disparity between state budget allocations for adult cancer research and pediatric cancer
FOR IMMEDIATE RELEASE – September 20, 2018 – Washington, D.C.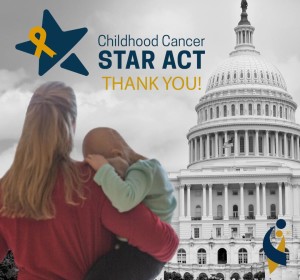 The American Childhood Cancer Organization (ACCO) announced today its Why Not Kids state-level advocacy campaign, a new initiative based on successful efforts in Kentucky, that will focus on working with state governments to close the gap between budget allocations that go towards adult and childhood cancer research. ACCO will strategically implement Why Not Kids in pilot sites to advocate for policies and funding in recognition that children are not simply small adults and adult cancer treatments cannot simply be dosed down to effectively cure kids.
How urgent is this call to action? "Childhood cancer is the leading cause of death by disease in children in the United States," said Ruth Hoffman, ACCO's Chief Executive Officer. "The majority of children with cancer continue to be treated by drugs that were developed in the 1950s, '60s and '70s. In fact, there's been just 3 new drugs approved by the FDA in the last 20 years to specifically treat childhood cancer, compared to the more than 185 new drugs approved to treat adult cancer types over the same time period. Working towards increasing childhood cancer research through state-based budget funding can play a significant role in addressing this disparity in access to new cancer treatments."
This disparity became very personal to ACCO Director of Government Relations and External Affairs, Jamie Ennis Bloyd, when her five-year-old son was diagnosed with aggressive stage 4 lymphoma and leukemia during the Kentucky legislative session in March of 2014. A lobbyist at the time, Jamie quickly realized the gap in state-level engagement and funding for childhood cancer. Working with state legislative commission staff, she discovered in the last 3 biennial state budgets over $15 million dollars had been allocated to adult cancer research, causing her to wonder, "if state funds have been allocated to adult cancer research – why not kids"? She soon learned no other state in the country had specifically invested in childhood cancer research either and Why Not Kids was born.
In the 2018 Kentucky legislative session Governor Matt Bevin and the Kentucky General Assembly recognized this urgent need and set a national precedent for state engagement in the fight against childhood cancer by appropriating first time funding of $5 million dollars for collaborative childhood cancer research efforts at the state's two children's oncology group hospitals. Already this new funding has resulted in the revelation of a cluster of a 40-county area in Kentucky in which children have an 87% higher incidence of pediatric brain tumors than what would be expected. Pediatric brain tumors are now the leading cause of death for children diagnosed with cancer in America.  
Other projects funded in Kentucky through the Why Not Kids movement include drug development for molecularly targeted therapies in Ewing's sarcoma; trials for a new methodology for less invasive and earlier detection of relapsed Acute Lymphoblastic Leukemia; investigation into new biomarkers for earlier identification of neurocognitive impact of chemotherapy; and expansion of basic science and clinical research utilizing CAR-T immunotherapy in Acute Myeloid Leukemia, neuroblastoma and pediatric brain tumors (currently only used for B-cell malignancies).
At an event in Kentucky on Wednesday commemorating September as Childhood Cancer Awareness Month and speaking publicly for the first time regarding the research projects selected, Governor Matt Bevin stated, "This encourages, with just a few million dollars, the ability for collaboration in a powerful, powerful way," Bevin said. "And I think that's creating a tremendous level of dialogue, but also hope for the families, for the universities themselves, and for the possibility of finding cures for childhood cancer."
ACCO's Why Not Kids research efforts will be focused on promoting the latest in scientific advancements utilizing immunotherapy and molecularly-based treatment. ACCO will work with state pediatric oncology programs and implement these awareness and advocacy campaigns utilizing state cancer registry data, population-based incidence, and virtual tissue biorepositories to inform funding decisions. Funding for Why Not Kids pilot sites comes from Amazon and have been selected based on the June 2018 Centers for Disease Control published report of childhood cancer incidence by state with further review by experts with over 50 years of combined experience in state level cancer epidemiology and cancer registries.
About ACCO
The American Childhood Cancer Organization was founded in Washington, D.C. in 1970 by parents of children and adolescents diagnosed with cancer to advocate for their needs and support research so every child survives and leads a long and healthy life. The nation's largest grassroots organization at the forefront of the crucial battle against childhood cancer, the ACCO is dedicated to shaping policy, supporting research, raising awareness, and providing educational resources and innovative programs to children with cancer, survivors, and their families. Since its inception, the ACCO has helped support more than half a million families affected by childhood cancer. ACCO now has 35 local ACCO affiliates known as Founding Hope chapters throughout the United States. For more information on the partnership with Amazon visit www.acco.org/amazon.
FOR MORE INFORMATION OR TO SET UP AN INTERVIEW: Contact Jamie Ennis Bloyd, Director of Government Relations and External Affairs, American Childhood Cancer Organization at jbloyd@acco.org 859-948-4626 or Ruth Hoffman, Chief Executive Officer, American Childhood Cancer Organization rhoffman@acco.org 202-262-9949.