While the country recovers from the COVID-19 pandemic, thousands of children and families continue to battle childhood cancer.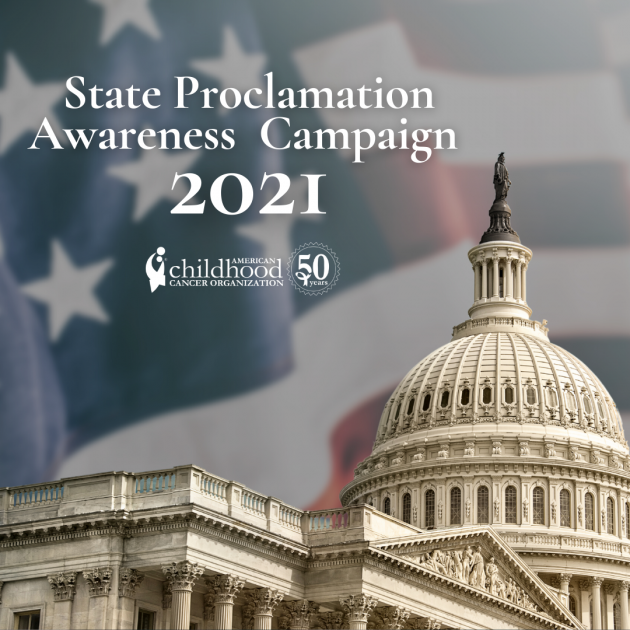 Even during the pandemic, childhood cancer remains the number one cause of death by disease for children in the U.S. and around the world.  In just over three months, we will honor all of these brave individuals as we raise awareness during September as Childhood Cancer Awareness Month. The oldest and largest grassroots organization in the country, the American Childhood Cancer Organization (ACCO) has a goal of obtaining official proclamations in all 50 states.
Together with many committed advocates and grassroots organizations, we humbly ask for your help contacting the governor's office in your state. ACCO, as a national organization, has contacted your state and they are looking forward to issuing the proclamation. However, many times the request has to come from a resident.
With COVID-19 dominating all state government activities, it is more important than ever to use our voices and raise awareness for childhood cancer!
To make the request, simply click your state below.
A list of links to states that accept online requests can be found by clicking HERE.
Sample language has been provided below as an optional guideline for your submission request that can be copied and pasted into your request. To access the sample language, click HERE.
If you'd like to join our Monthly Advocacy Trainings, click here.
If you receive a response from your state's Government office, please email Jamie Bloyd at Jbloyd@acco.org or Aubrey, Director of Corporate & Community Engagement at areichard-eline@acco.org upon notification, so we may follow up together!
Thank you in advance for your continued support of the American Childhood Cancer Organization!
Questions? Email Jamie, Director of Government Affairs and External Relations at jbloyd@acco.org or Aubrey, Director of Corporate & Community Engagement at
areichard-eline@acco.org.
Listen HERE to The MFH Good Deed Segment on the Mark White Show.