Latest Statistics Show that Global Occurrence of Childhood Cancer is Greater than Previously Thought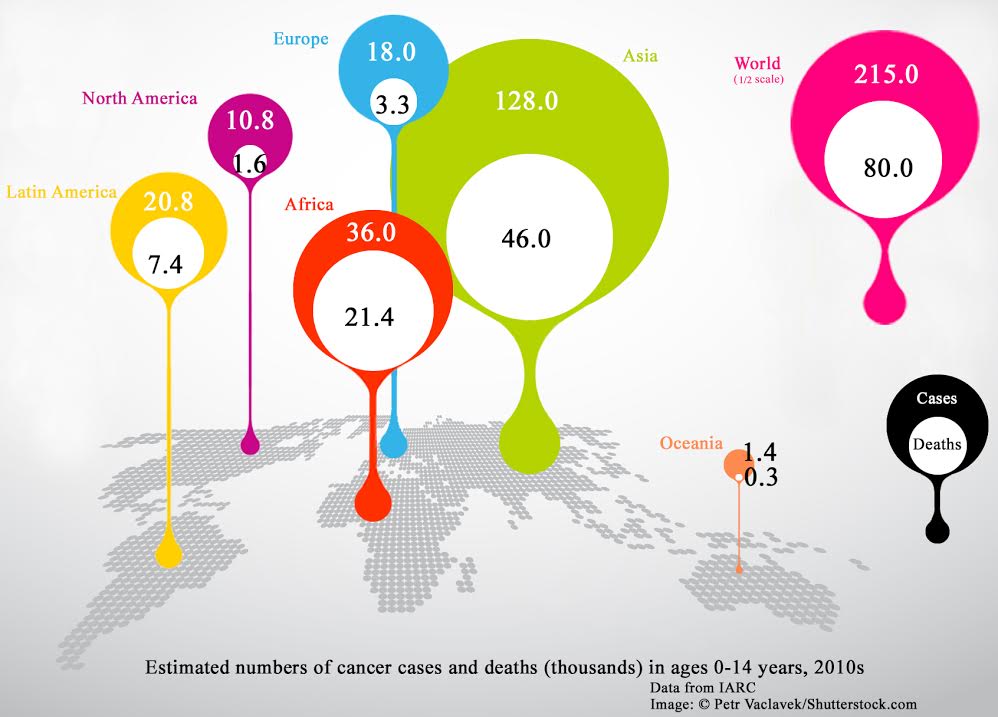 A report released recently (2016) by the International Agency for Research on Cancer (IARC) indicates that the global occurrence of childhood cancer may be significantly higher than previously thought.  The report, which relies on more than 100 cancer registries in 68 countries from 2001-2010, indicates that approximately 300,000 cases of cancer are diagnosed in children and teens under the age of 19 every year.  The report also indicates that there are an estimated 80,000 deaths annually from childhood cancer worldwide.   
Perhaps more important than these striking but rather dry statistics, however, is the report's new and startling facts about differences in global occurrence patterns.  For instance, nearly half of childhood cancers worldwide are cancers of the blood (leukemia and lymphoma), but leukemia, the most common form of childhood cancer, is rarely diagnosed in sub-Saharan Africa.  The report also hints at a surprising correlation between some forms of childhood cancers and infectious diseases.  For example, Burkitt lymphoma is one of the rarest forms of childhood cancer but occurs with the highest frequently in equatorial Africa where exposure to Epstein-Barr virus and malaria are also prevalent.  Kaposi sarcoma, another rare form of cancer, has a higher rate of diagnosis in countries with a high prevalence of HIV infection.  These surprising findings indicate the need for significantly increased research into the causes of these and other disparities, as well as the correlation between childhood cancer and other diseases in some areas of the world.  

Officials Warn that Childhood Cancer Is Becoming a Public Health Crisis in the Developing World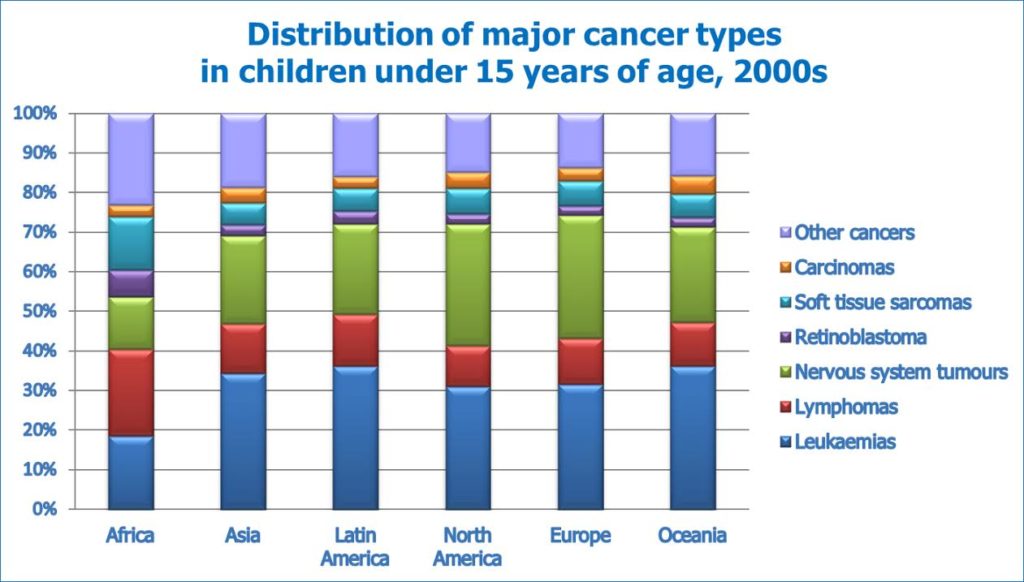 The report also highlights the increasing inequality in childhood cancer diagnosis and treatment between high-income and low-income countries.  For instance, the report clearly shows that thanks to some recent developments in new treatment options, many forms of childhood cancer have an increasingly-high survivability rate in the United States, where survival rates are reaching upwards of 80% and higher for some forms of cancer, while childhood cancer survival rates in low-income countries may be as low as 10%.  Moreover, many cases of childhood cancer in the developing world are likely not even included in these statistics due to lack of access to diagnostic tools and basic medical care in many low-income countries.  Indeed, many scientists now believe that childhood cancer poses an increasing public health risk to children in many parts of the world, especially in those areas where most children lack access to high-quality medical care.  As noted by IARC Director Dr. Christopher Wild: "The proportion of children dying from cancer in poorer countries is unacceptably high, especially when we have the example from richer countries as to what can be achieved through access to care."