JOIN THE #GIVINGTUESDAY MOVEMENT!
Help the American Childhood Cancer Organization ship free family resources across the United States!

START "GIVING TUESDAY" TODAY or Give on Tuesday, November 29th.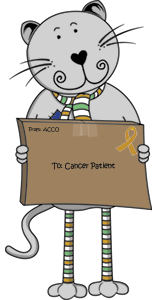 Each family resource box we package needs postage! Your donation will help us reach our goal of $6,000! Helping us support our shipping costs is easy! Join in the #GivingTuesday movement by using the gold "Donate" button below and then share.
Cozy the Port-a-Cat says,"Did you know we shipped 32,000 free learning resources to families this facing childhood cancer last year? Our shipping costs alone were over $57,000*!"
Shipping our free learning resources helps us to empower families making medical decisions, foster compassion, trust and ultimately hope.
Do you want to see how your donation can help families facing childhood cancer? Read stories from individuals that have personally received our free learning resources! Check out our Facebook Page by clicking here.
You can also learn more about our free resources by clicking here. Our resources include medical play kits, Cozy Cat stuffed animal, comfort kits, books, videos, journals and more.
After contributing, share on social media with your family and friends by using these hashtags:
#gogoldgiving #givingtuesday #ACCO
As we approach the holidays, we know that this cherished season is about Giving! We hope that the stories of how ACCO free resources have helped children, teens and families fighting childhood cancer will inspire you to help us to continue to support our mission.
We need help providing these free resources and covering the shipping costs. We humbly ask during the holiday season for a small donation on #GivingTuesday or today.
After you've made your donation, please share this page and show your friends and family how your donation helped a kid facing childhood cancer now! We can't do this without your support and appreciate any amount or share.
Also, if you are a family who has received any of our free resources, we would be honored if you could share your story and photos. Please share in the comments below, as a private message or send us an email at cperry@acco.org. We will feature your story and how ACCO's free resources helped your family during the month of November, up until #GivingTuesday when we will create an album of all the good everyone's "giving" has provided for our children and teens in treatment! Thank you in advance for your help!
*Data provided is from our 2015-2016 Fiscal Year.
Go Gold® is a registered trademark of the American Childhood Cancer Organization.