Childhood Cancer Action Day
American Chidlhood Cancer Organization, as part of the Alliance for Childhood Cancer, participates in Childhood Cancer Action Day.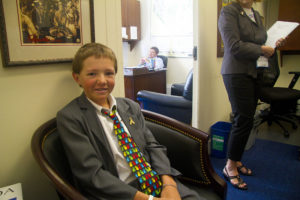 This is a mobilization of childhood cancer advocates from across the country. A day of issues and advocacy training is followed by a day of pre-arranged Capitol Hill visits with Congressional representatives and their staff. Members of the childhood cancer community – parents, children, and others – have the opportunity to visit Capitol Hill and advocate for important childhood cancer issues.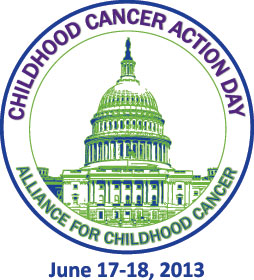 Creating Hope Act Signed Into Law
On July 9, 2012, President Barack Obama signed the Creating Hope Act into law. Originally H.R. 3059, The Creating Hope Act was passed as Section 908 of S. 3187 of the Food and DrugAdministration Safety and Innovation Act. This law will help pharmaceutical companies overcome market failures and change the way they look at developing treatments for children. This is the first move by Congress to confront the dire supply of drugs for pediatric cancers, as well as other devastating childhood diseases. The FDA has only approved one childhood cancer drug in the last 20 years, compared to 50 drugs for adults. The National Cancer Institute allots only 4 percent of its budget for childhood cancers, and funding for other pediatric diseases is just as scarce. The Creating Hope Act will expand the priority review voucher program as incentive for pharmaceutical companies to formulate more pediatric drugs. Essentially, companies can expedite the FDA's review of more profitable drugs if they also develop treatments for pediatric cancers and other rare diseases.
Nancy Goodman talks about the Creating Hope Act 2012 on Fox5 News
Law Offers Drug Companies Vouchers in Exchange for New Cancer Drugs for Kids
McCaul: Creating Hope Act does just that for families of children with cancer