ONGOING COLLABORATIONS, COMMITTEES AND OTHER ACTIVITIES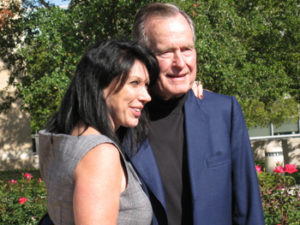 Located in the Washington DC area, American Childhood Cancer Organization's National office is recognized as the voice representing childhood cancer families and survivors on Capitol Hill. Working to support legislative issues that impact the littlest cancer patients in this country, American Childhood Cancer Organization is an active participant on the national policy committes listed on the ongoing collaborations and committees page (linked below).
American Childhood Cancer Organization represents a voice for pediatric cancer families and survivors to the general public, the medical community, government, schools, employers, and the media. ACCO works with other cancer patient advocacy groups for improved funding of pediatric cancer research and on legislative issues that impact our members.
ACCO Director with President George H.W. Bush

NATIONAL CANCER COMMITTEES AND MEMBERSHIPS
ACCO currently represents families of children with cancer and survivors on the Washington DC-based national cancer committees listed below. As an active member of each committee, Executive Director of American Childhood Cancer Organization, Ruth Hoffman, advocates for the needs of our families.
REFERRALS
ACCO helps parents dissatisfied with their child's treatment plan find second opinions.
COLLABORATIONS
ACCO collaborates with the following organizations:
ONGING ADVOCACY PROJECTS
How to Connect with Government
How to write to your congressional representatives.
Links to advocacy agencies
Childhood Cancer Ombudsman Program
Email: gpmonaco@hughes.net
This is a service of the Childhood Brain Tumor foundation that provides information regarding education, rehabilitation, and employment discrimination of childhood cancer survivors.
Review 4/07
Special Needs Advocate for Parents
An organization to help with education, legal and insurance problems – good newsletter articles.
Review 4/02
A non-profit organization designed as a liaison between patients and their insurers to resolve issues.
Review 4/02
A Lion in the House (by Steven Bognar and Julia Reichart) is a documentary that follows several childhood cancer patients through phases of treatment. In association with this project, 'My Lion' provides information kits and training for youth groups that want to do community service around childhood cancer.
Review 8/07
This is a 7-page article to help begin the process of advocating for your child's special needs as related to education. Principles can be applied to other situations.
Review 3/02