Ordering is Currently Open for the 2018 ICCD Awareness Shirt, from December 29th to January 22nd. To Order Your Shirt, Please Click Here or the Button Below and be Sure to Follow the Instructions to Receive the Correct Shirt.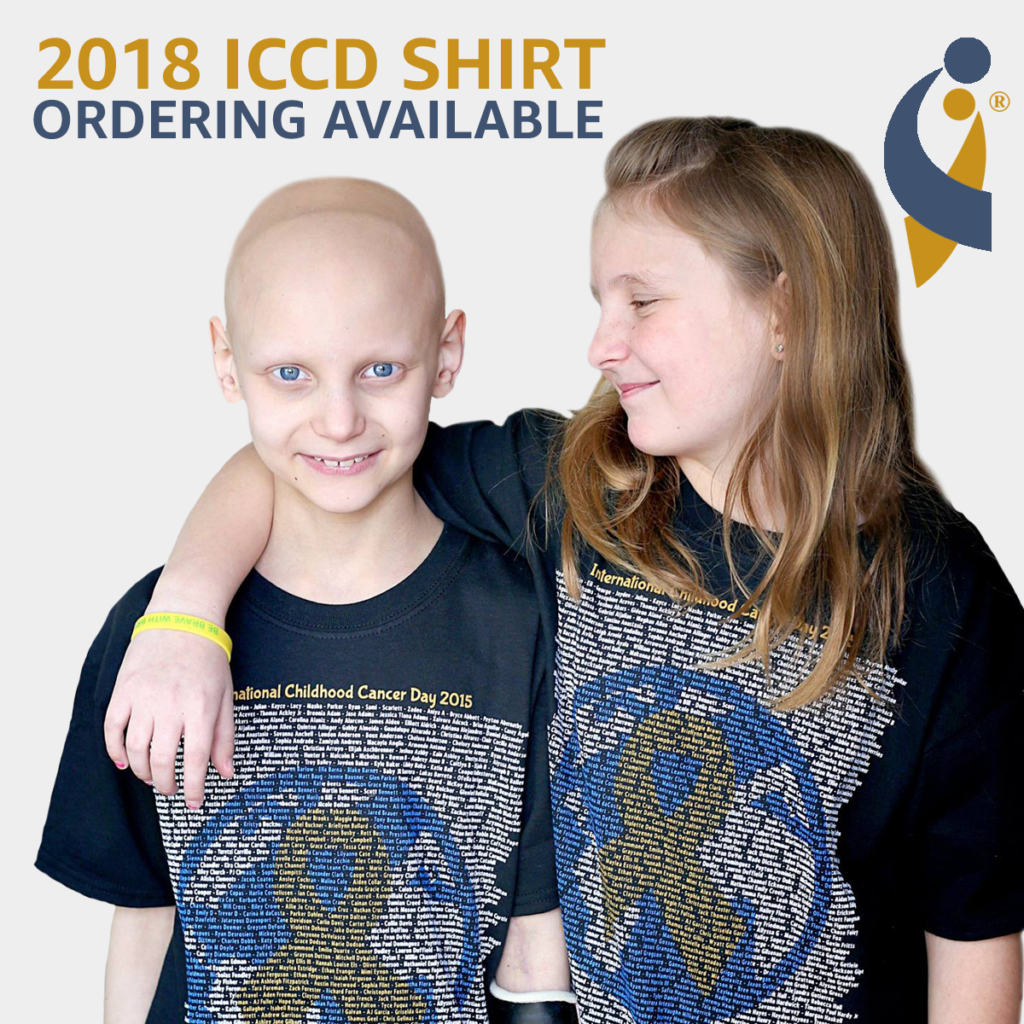 To order a 2018 ICCD Awareness Shirt, Please follow the instructions below. ICCD or International Childhood Cancer Awareness Day is February 15th every year.
This year approximately 8,000 names of children and teens who have fought cancer or are still fighting cancer were submitted. These names represent so much more, they represent someone's child, brother, sister, cousin or friend. They represent too many children, teens and families who have fought this disease with fierce strength and determination.
Since we received approximately 8,000 names, we have to divide them onto seven different shirts. When ordering the shirts please be
absolutely certain you are selecting the correct shirt
. Names are in alphabetical order by last name. If no last name was submitted, first names are in alphabetical order on the end of the list or last shirt (SHIRT 7). For siblings, cousins or friends, the names have been placed together in order to print on one shirt upon special request, however a duplicate of that name will also be in alphabetical order for those who submitted the name separately. If you have sent a special request for this, please check the list to see if the names are together. Please email 
shirts@acco.org
 with any questions.
Names are divided onto 7 shirts as listed below:
SHIRT 1: # – CARSON ("#SophiStrong, 

Stefan A-M" 

– "

Ryan Bradley Carson")

SHIRT 2: CARSON – FIUMANO ("Zachary Carson" – "

Sebastien Arthur Fiumano")

SHIRT 3: FLAGLER – INGRAM ("Peyton Belle Flagler" – "

Alec Ryan Ingram")

SHIRT 4: INGRAM – MCCOLLUM ("Brandon Matthew Ingram" – "

James Michael McCollum")

SHIRT 5: MCCONNELL – RAMELLA ("Hypathia Tia McConnell" – "

Mazzi Alexis Ramella")

SHIRT 6: RAMER – STRATTON ("Nolan Ramer" – "

Tripp Stratton")

SHIRT 7: STRATTON – ZURMILLER ("Tyler Cole Stratton" – "

Isaiah Micheal Zurmiller")
To review the list of names click HERE or the button below. There are separate tabs for each shirt, so please double check your submitted name before placing your order for the correct shirt. 
For a list of Frequently Asked Questions, or FAQ, please visit HERE or click the button below: 
Thank you again for your ongoing support!
Scroll down to see the NEW 3-D Gold Ribbon Globe design! We hope you like it as much as we do! There are 6 styles: Adult Women's V-Neck, Long Sleeve Baseball T-shirt with Grey Sleeves, Long Sleeve Dark Grey Hoodie, Adult T-Shirts Vintage Black, Long Sleeve Black Sweatshirt, and Youth T-shirts.